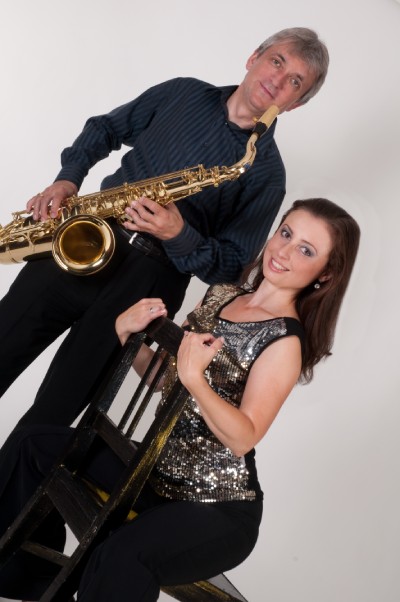 The meeting of the saxophone and the piano in one chamber ensemble may be regarded as a fusion of the past and the present. Although the saxophone was actually invented in the 1840s, it began to fulfil its vocation almost one century later. Thus it became a symbol of the accelerated pace of life characteristic of our age. The piano, on the other hand, evokes a settled, domestic, civilised atmosphere infused with the aroma of coffee and resonating with lofty music. The combination of these two apparently contradictory elements transports us into a very special world of music in which we may be either ironically teased or soothingly caressed.
One of the first protagonists of this genre of music is the Sax & Piano Duo, which has been appearing regularly on the Czech musical scene since 1995. Both musicians, Laura Mikel Vlková (piano) and Roman Fojtíček saxophone), stem from the elite of Czech concert artists, but take an especially broad approach to music and performance, both inside and outside the framework of the ensemble.
Pianist Laura Mikel Vlková is known for her extensive work with the Prague Children's Choir, with which she completed a number of European and world tours; she works with the theatre, television and film as well as pursuing her own independent concert activity. She was invited to prepare and produce Karel Svoboda's original Czech musical "Dracula", and also collaborated on his latest musical project, "The Count of Monte Cristo". She also teaches at the Jaroslav Ježek Conservatory.
Owing to his excellent musical abilities, saxophonist Roman Fojtíček is in frequent demand as a saxophonist or clarinettist in symphony orchestras, chamber ensembles, and for solo performances (mostly contemporary works). He is one of the founding members of the Bohemia Saxophone Quartet, with which he performed regularly in the Czech Republic and abroad. In 2003 he founded the Czech Sax Quartet.
In 1995, the two musicians founded the Sax & Piano Duo, in which they perform music both originally written and specially transcribed for this unorthodox combination of instruments. Their concert programmes are enriched by moments when the duo divides and each musician presents his or her instrument separately in a solo performance. Another touch of spice in their concerts is their tradition of inviting special guests to contribute to the evening's programme – usually other instrumentalists or singers. The Sax & Piano Duo boasts a wide repertoire ranging from the late Baroque to the 20th century, including the latest contemporary works.